Welcome to the official site for Jason Bastelli. You may recognize Jason from his recurring role on As the World Turns or maybe his stint on Late Night With Jimmy Fallon. Here you will learn more about this talented young actor. For Industry Professionals looking to learn more about Jason, please click on his name in the navigation menu to find everything you will need.
Unplugged Nation
By staff | 29 Jul 2015 |
The
FYI Network
is launching all new programming with the series
Unplugged Nation
premiering tonight! Looking at families as they make the decision on whether to move and live off the grid they help families view homes and experience the lifestyle for a couple of days. Make sure you're watching the first episode at
10/9c
as it centers around Jason and his family! Do they move to Hawaii and live off the grid? Stay in New Jersey? Well you've have to tune in to find out!
The Bastelli family from New Jersey wants to move off grid. Jason, Stacy and their two children have never lived outside the city before. They view three off grid properties in Hawaii and choose one to stay in for three days before they make an offer. Will they decide to stay unplugged in Hawaii or return home to plug back in?
Merry Christmas!!
By staff | 25 Dec 2014 |
Jason is so excited that
Christmas
is finally here! He's been counting down the days for Santa's arrival and was happily surprised with what he found under the tree. He is looking forward to spending the day with his family, and would like to wish everyone celebrating today a
Merry Christmas
! May everyone's holiday season be full of joy and happiness, and all the best in 2015!
Happy Birthday!
By staff | 03 Aug 2014 |
Today's a very
big
day for Jason! One he's been counting down the days for and one that marks a very exciting milestone! Jason is officially entering the world of double digits today as he celebrates his birthday!
Happy Birthday Jason
! I hope you have a
fantastic
day with your family and friends as everyone comes together to celebrate your special day. Being ten is going to be full of new memories and opportunities, so much to see and do! I hope your day today is everything you hoped it would be and more,
Happy Birthday
!
Happy Holidays!
By staff | 25 Dec 2013 |
Jason is so excited for
Christmas
to be here! He's been counting down the days, and now it's time to open presents with his little brother, and spend the day with family taking part in all of the holiday traditions they enjoy. He'd like to wish everyone a
Merry Christmas
today for those who are celebrating and hopes that all of you have been having an
amazing
holiday season, no matter which holiday you celebrate. All the best in 2014!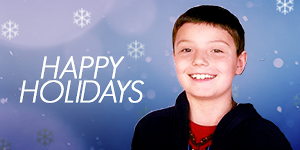 (Thanks Sarah for the banner!)